By: Editorial Team Reading time: 5 Minutes
Protecting food and the climate
Sustainability is the key to a future worth living in. This principle also applies to the production and processing of food. Gases play a decisive role in improving yield and shelf life, avoiding waste, and optimizing the processing of valuable resources.
Just over a third of human activity-related greenhouse gas emissions are attributable to agriculture and the food industry. Some eating habits have a prominent carbon footprint. The way in which food is stored, processed, and transported also has a significant bearing on environmental outcomes. The UN's climate goals can only be achieved if emissions are also reduced in the crucially important food industry.
The production and consumption of meat as well as milk are considered to be particularly relevant in terms of climate change. Reducing the proportion of animal products in human nutrition can make a significant contribution to cutting emissions. Instead, the aim is to increase the consumption of vegetable products, which are healthier to boot. This message is certainly getting across, as demonstrated by the strong trend towards vegan and vegetarian products in many countries.
Numerous plants are a source of valuable proteins, which, with appropriate processing, can replace meat, fish, and milk products. New sources of protein such as algae or insects open up additional ways of reducing the area under cultivation as well as emissions while at the same time producing highly nutritious and healthy food. Greenhouse cultivation also plays a part here. It extends the growing season and facilitates higher yield on a given area.
The targeted use of CO₂ obtained from industrial waste gas allows yield to be further boosted. CO₂ serves as a plant nutrient and is one of the most important building materials for any plant growth, in addition to light and water. It is possible to increase growth by enriching the greenhouse atmosphere with this greenhouse gas: tests carried out with peppers, for example, showed a yield increase of over 30 percent with CO₂ fertilizing. At the same time, the carbon dioxide that is absorbed by the plants is removed from the atmosphere – at least for a while.
Cryogenic mixing and freezing
Whether vegetable or animal-based, a large part of agricultural produce now undergoes industrial processing. In the production of conventional sausages as well as vegan products, ingredients are mixed in machines. This requires low temperatures to prevent the mix from getting contaminated with harmful microorganisms. The quickest and gentlest cooling effect is achieved with cryogenic processes using cryogenic gases.
Speed is also useful when it comes to freezing: products that have been frozen cryogenically are barely distinguishable from fresh ones after defrosting. The effect of cryogenic gases causes the cell water to crystallize so quickly that only small ice crystals are formed, keeping the cell walls intact. The high freezing rate of cryogenic freezers also saves time, reduces space requirements, and enables particularly efficient processes.
In addition, cryogenic mixer cooling with nitrogen or carbon dioxide has a welcome side effect: the cold gases displace the ambient air from the process environment. In this way, they prevent oxidation of ingredients such as the oily-fatty constituents of the mix. Because what smells and tastes rancid to us is nothing more than the result of a chemical reaction of fatty acids with oxygen. Thus, even during processing, these gases help to prolong the shelf life of food products.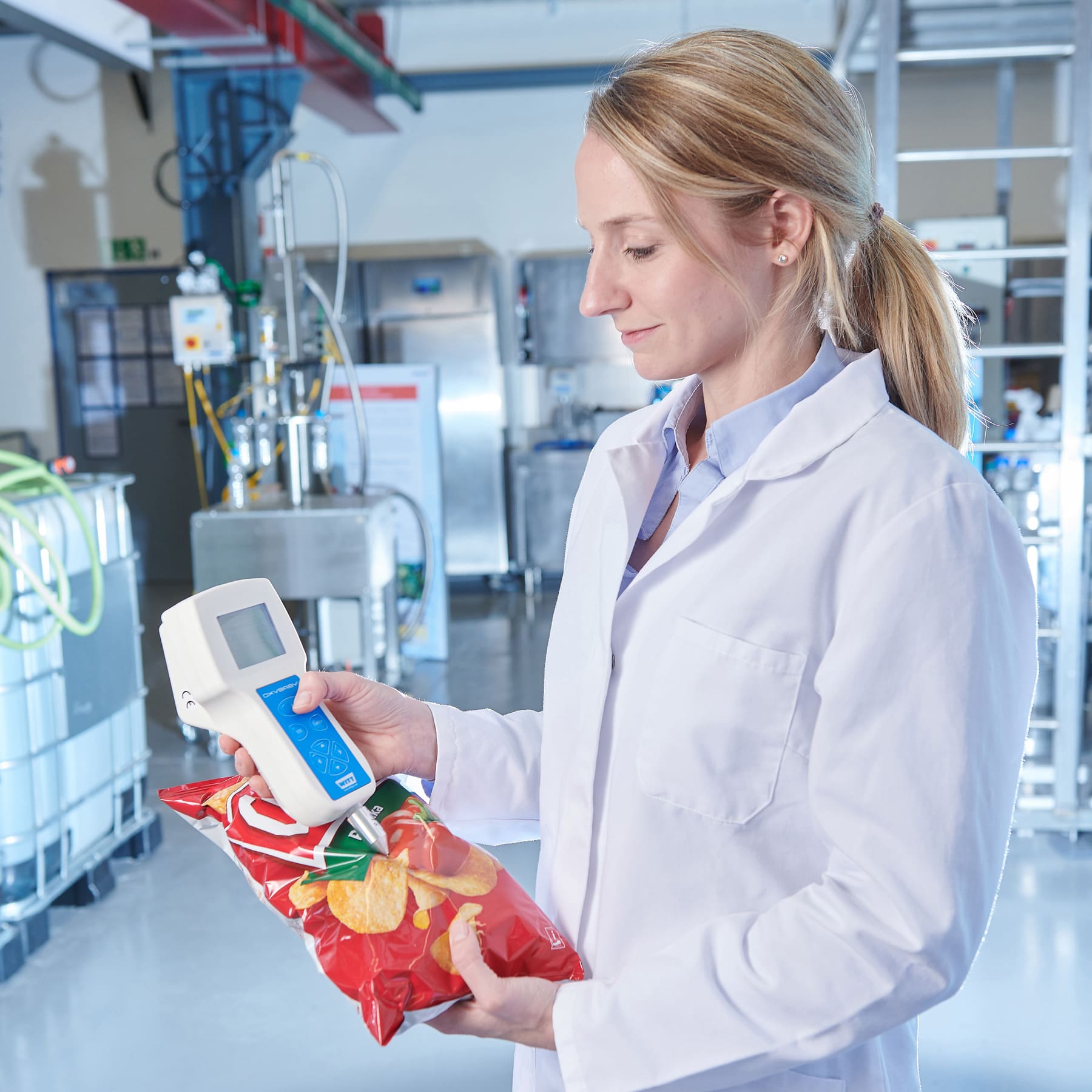 The inerting effect of gases plays an important role. Protective packaging protects food from going bad and extends its shelf life.
Johanna Schirmacher, Food Application Expert at Messer
Shelf life is a crucial factor in general, both in terms of providing humanity with an adequate supply of food and in terms of the ecological footprint. According to relief organization Welthungerhilfe, 1.3 billion metric tons of food is wasted each year – that is the equivalent of one third of all the food produced worldwide!
Part of this loss is attributable to careless and wasteful practices in the rich countries. By contrast, a large part has to do with inadequate storage, pest infestation, and rotting, especially in the poorer countries. Protecting food from going bad is therefore a top priority.
"The inerting effect of gases plays an important role here too. Protective packaging protects food from going bad and extends its shelf life," explains Johanna Schirmacher, Food Application Expert at Messer. The technical term for this type of packaging is Modified Atmosphere Packaging or MAP for short.
Carbon dioxide is particularly well suited for restricting the growth of bacteria and mold. As an inert, reaction-inhibiting gas, nitrogen prevents all oxidation processes and also reduces germ growth. Both gases can be used for MAP, either separately or as a mixture. In the case of meat products, however, oxygen also forms part of the protective atmosphere since it preserves the red color of the meat and inhibits the development of anaerobic bacteria. In addition, fruit and vegetable products also require a certain oxygen concentration in the packaging to maintain cellular respiration.
More often than not, mixtures are used for MAP to make the most of the advantages of the individual gases – with the optimal mixing ratios varying from product to product. Messer supplies MAP gases as ready-made standard mixtures in cylinders; however, they can also be mixed individually at the production site using gas mixing devices. All gases used for this purpose comply with the statutory requirements and are certified as food grade. Incidentally, inert nitrogen is also used to prevent dust explosions when transferring grain into or out of storage as well as to extinguish silo fires.
Maintaining the cold chain with lower emissions
Cooling or chilling are known to be another way of extending the shelf life of food. Continuous cooling or chilling allows fresh food to be kept fresh for many days and frozen food to be stored for many months. From the hotel minibar to the hectare-sized cold store, there are countless storage facilities where a cooling effect is produced by a compressor, just like a normal refrigerator. Conventional refrigerated vehicles also use this technology. But the mobile cooling compressor is noisy; plus it draws its energy from the truck's diesel engine or from a separate diesel generator, either of them associated with certain emissions.
More and more cities are restricting access for such trucks. As a result, an alternative cooling source is needed to prevent the cold chain being disrupted in these restricted zones. The strong cooling effect of cryogenic gases offers the best alternative. No noise or exhaust gases are produced when using them. Messer offers a number of systems of different dimensions for efficient and low-emission transport refrigeration.
From very small to very large
For individual deliveries that go directly from the Fulfillment Center to the end customer, we offer the SnowDrop and MiniCryo combination. The SnowDrop station converts recovered liquid CO₂ into dry ice snow, which is loaded into the lid of the MiniCryo transport box. This filling keeps the contents of the box cold for up to 24 hours. The Cryo2Pack system serves the same purpose. It allows you to produce your own cooling elements within seconds and use them in any portable cooling boxes. This solution involves filling plastic bags with the dry ice snow.
The Siber system is a size up and moves on its own castors to facilitate loading into the truck. It is also cooled with dry ice, which in this case is produced by feeding in liquid carbon dioxide and expanding it directly in the reservoir of the cooling container. Usually, this provides a guaranteed cooling effect for at least 24 hours. Finally, the EcoLIN solution cools the entire chamber of a refrigerated truck, in this case with the strong cooling effect of liquid nitrogen. The gas flows from a tank through a heat exchanger, where it is vaporized and indirectly cools the load area of the truck. This means that there is no liquid nitrogen in the load compartment, making the application safe and simple. Unlike with compressor cooling, any temperature fluctuations – for instance when opening the doors – are compensated almost silently and without delay. Compared with a conventional refrigerated truck, CO₂ emissions are reduced by over 80 percent.
HOW DID YOU LIKE THE ARTICLE?
YOU CAN SHARE THE ARTICLE HERE