By: Editorial team
Reading time: 3 Minutes
Green rail service without overhead lines
Trains cannot go everywhere on electricity. That's why clean hydrogen will play an important role along the way to a climate-neutral rail system. It can reduce costs and enable the optimum use of renewable energy.
Worldwide, there are about 1.3 million kilometers of rail track. In 2021, barely 30 percent of it was electrified. Even if that share is increasing continuously - and its rise in Asia has been especially strong in recent years - many rail lines will never be electrified, because installing overhead lines is expensive and not practical everywhere.
In Germany, for example, some 450 routes are still served by diesel locomotives today. "Those routes will be electrified to the greatest possible extent," explains Tim Evison, Senior Vice President Clean Hydrogen at Messer. "For many branch lines, however, that will be too expensive. In the future, alternative drive systems will be needed there instead. We see a similar initial situation with similar solutions being considered in many countries today."
In the Düren District, we are already working to support a hydrogen-powered rail route.
Tim Evison, Senior Vice President Clean Hydrogen at Messer
For a climate-neutral rail service without overhead lines, the choice mainly comes down to one of two types of drives: electric with battery or electric with fuel cell and hydrogen. As with the automobile, most of the attention is currently focused on the battery electric variant. But just as with automotive applications, there are range limitations: routes of up to 100 kilometers are considered feasible for battery electric trains. Other practical obstacles relate to the alternation between day and night.
"Most trains run during daylight hours, so their batteries would have to be recharged overnight," explains Tim Evison. "When it is dark, however, there is less green electricity available from renewable sources. That makes the climate-neutral recharging of electric locomotive batteries at night more expensive."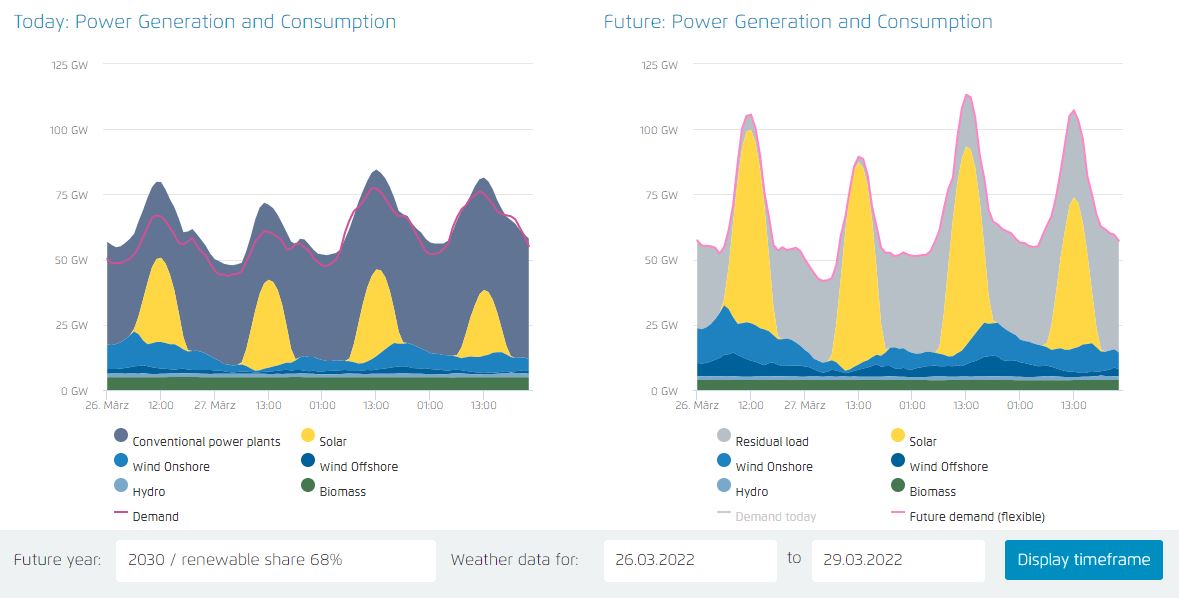 Supply and demand in the provision of electricity, today and in 2030: the nighttime supply of renewable energy will remain scarce also in the future. Source
Making full use of wind and sun
With green hydrogen as the energy carrier, on the other hand, the day/night cycle becomes advantageous. The electrolyzers used to split the water molecules can be operated primarily during the day when green electricity is readily available and offered at an attractive price. That also lowers the price of the hydrogen. It can then be easily stored, which is not the case for electrical energy, before being used to refuel the trains at night. Refilling with hydrogen takes only a fraction of the time that it takes to recharge batteries. Grid power at night is predominantly gray, meaning that it is generated from fossil energy, whilst renewable hydrogen is no less green in the moonlight. In the future clean hydrogen can also compete effectively on cost with diesel, which is only getting more expensive.
According to a study by the Association for Electrical, Electronic & Information Technologies (VDE), hydrogen can be competitive in rail operations starting from a diesel price of about 1.50 euros per liter. "In the Düren District, we are already working to support a hydrogen-powered rail route," Tim Evison reports concerning the activities of Messer. "In the USA, the Netherlands, Romania, and many other countries, we have similar projects under discussion. What still sounded pretty unrealistic a few years ago is now gaining steam so to speak. All over the world, more and more places can profit from our expertise in handling hydrogen."
HOW DID YOU LIKE THE ARTICLE?
YOU CAN SHARE THE ARTICLE HERE